How I Got In Affiliate Triad
One of the first areas of internet marketing most people are attracted to is affiliate marketing. And honestly, what's not to love about affiliate marketing? Someone else provides the product, the sales funnel and the money collection and they handle all the support. You just promote the product and collect a commission on the sales you generate.
The vendor does most of the work, and you get paid? You just gotta love that.
One of the first, and biggest affiliate program is the Amazon Associates program. Everyone shops at Amazon. I'm an Amazon Prime member, and I go to Amazon first for most things, just for the super fast free shipping. And lot's of Amazon customers go to the site to buy one item, and end up adding others to the cart before they leave. Amazon pays you a commission for those added items too.
There's a big problem with the Amazon Associates program. Amazon is huge, but their commissions are small.
And they've been getting smaller. They recently announced rate cuts in the payout schedule. Most items are now 3% of less. You have to sell a lot of books to make real money when you get pennies per book sold.
Wouldn't it be great to sell a high priced product, and get a nice fat commission for it?
Of course it would, and that's where Affiliate Triad comes in. Their mission is to provide ordinary affiliate marketers, people without industry connections, access to high dollar products (some costing more than $2000), and paying them generous commissions.
So, what is this Affiliate Triad thing?
UPDATE: As of June 20, 2021 I've dropped out of the Affiliate Triad program. It was fun and educational, but to make a profit from the programs they promote you need a list, and right now I don't. 
Affiliate Triad Overview
The Affiliate Triad monthly membership program is run by business partners Jason Fladlien and Wilson Mattos through their company Rapid Crush. Together they have more than 40 years of business experience, and started their company 10 years ago. They claim to have "generated hundreds of millions of dollars in revenue for our company, as well as our clients."
Back in my working days, I had an hour commute to work, and another hour back home. I used to have what Zig Ziglar called "Automobile University" during my drive time, mostly by listening to business podcasts. Nicole Dean did one of my favorites. She usually brought in a guest and interviewed them. One episode she had Dennis Becker as a guest.
I liked Dennis. He was a former engineer and successful online business owner. I'm an engineering school dropout and I've made a little bit of money online. He seemed like the perfect mentor to lead me to higher levels of success. I got on his list, bought some of his products and joined a couple of his membership sites.
Recently he promoted Affiliate Triad to his list. That's how I learned about it.
Here's how it works…
Jason and Wil find high ticket products and negotiate deals for us to promote during a special launch. These are high value, and high priced training programs in some area of the internet marketing world. I think they look for people that have great products and not so great marketing. We aren't going to use the vendor's marketing.
Next they put together a marketing package for the product. Jason is a webinar wonder child, so it almost always includes a free webinar by Jason. They also write up email sequences and build an attractive bonus package for the specific product. They build an entire high level marketing campaign – all the signup forms, landing pages etc.
As a member, you have the opportunity to earn nice commissions, and also capture email leads. You also get access to the product during the launch so you can learn from it too.
Kartra
As a member of Affiliate Triad you are asked to join Kartra. It isn't mandatory, but you can only use the done-for-you campaigns by having an account there.
Kartra is an all-in-one business platform. Here's a list of all the platforms and services it replaces:
Email marketing campaign platform
Marketing automation platform (letting you build and automate your sales funnels)
Marketing page builders (landing pages, squeeze pages, sales pages, thank you pages, product launch pages, checkout pages, video sales letter pages, and more)
Membership portal builders
Shopping carts
Online form builders
Split testing and link tracking software
Calendar and appointment scheduling software
Helpdesk ticketing systems, including live chat
Video hosting (with advanced marketing features)
Affiliate management system
Campaign analytics platform
Custom programming to integrate your various marketing software platforms — Kartra seamlessly integrates all of the above already
Graphic designers — Kartra's professional, stunning templates designed to convert — for pages, emails, forms, and more — take care of that for you
These are robust, full featured platforms.
Your Kartra account isn't limited to Affiliate Triad activities. You can use it for any product or service you want to sell.
Kartra isn't included in your membership fee for Affiliate Traid. You must buy it separately.
The cheapest Kartra plan is $99 per month. If you jump through a couple of easy hoops, Rapid Crush will refund your Kartra fees for the first 12 months of your membership. They issue refunds twice per year, in July and January, each for any fees you had in the proceeding 6 months. What are those hoops?
You must purchase Kartra using the Rapid Crush affiliate link.
You have to stay a member of Affiliate Triad during the refund period. If you join in July and quit in November, you won't get a refund in the January refund period. I joined in May and got a two month refund in July. I got a full six month refund this Jan.
You have to apply for the refund by filling out a form they provide, with documentation, during a short refund request window. It isn't automatic.
You probably think they make it really tough to get the money back. They don't. They email you when the time is right, with instructions. The Rapid Crush support team is one of the best if you need help. You do have to meet the deadline. The refund period lasts a couple of weeks, but the deadline is for real. The refund is timely after you submit your proper request.
I was very pleasantly surprised how smooth the refund process went.
Community
When you join Affiliate Triad you not only get Jason Fladlien and Wilson Mattos, you also become part of a vigorous, friendly and supportive community. Many of your fellow members have been around the internet marketing block a few times and are successful. They all seem eager to help others.
Slack Group
I bet you've seen marketers that have a bonus for their customers in the form of a private Facebook group. I'm a member of a bunch of them.  They're like flies on a cow turd, because they're free for the marketer.
Let's all just admit something – Facebook is a pain in the butt.
Your FB group may have lots of activity, but you may not get notified about it because it doesn't fit into the algorithm of what Facebook wants you to see. And there are distractions everywhere.
Affiliate Triad uses a Slack group to run their program. They communicate everything through Slack. They have to pay for this. I believe it's very expensive.
I really like Slack. You won't find any cute cat videos, political flame wars, or a million memes on the Affiliate Triad Slack group. No distractions. Just important info, organized in several different channels.
Everything is in Slack.
Mentors
Another part of the Affiliate Triad community are the mentors.
For someone that has a big list, or lots of experience buying traffic, Triad is great. But lots of us don't have those. Jason and Wil have taken note of this and have started building resources to help out.
One of the things they've come up with is the mentor program. They reached out to several members that have specific talents and expertise and got them to become mentors.  I think there are currently five of them. They have their own channel in Slack so they're easy to find.
Each mentor has a weekly office hour. I think these are live Zoom meetings. They go over training and have question and answer periods. I don't have good internet out in the tall weeds where I live, so I've had almost no luck with Zoom . That's OK though, because like everything else Affiliate Triad produces, the sessions are recorded and made available in the mentor channel in Slack.
Everything is in Slack.
Support
There is a support channel in the Slack group. There are also Rapid Crush support team members that seem to patrol the various channels ready to offer help.
Wilson Mattos seems to be on Slack all the time to provide help.
Training and Resources
Over the months of the Affiliate Triad's existence there have been many additions to the program. There have been several training programs added. Members with no previous list feel intimidated trying to promote a product that costs more than $2000, so products of lower price points have been added. Lead generation products have been made available.
Member Area Trainings
I may have mentioned this earlier… everything is in Slack. This is great, and it isn't. It's nice to have one central location to get all your information. It isn't so great after there are months of info, because it gets hard to find stuff.  Once again, the Rapid Crush team responded.
We now have an Affiliate Triad members only website. The member's site makes it easy to locate available resources. There are a lot of them.
There is a "Start here" area with instructions and links for the new members. There are a lot of parts to this membership, and it can be overwhelming to the new member. This provides early guidance.
There are also the following areas:
Tutorials and Guides
Here you'll find help to get the Kartra system setup and a few other tips and tech tricks.
Member Spotlights
One of the mentors does Member Spotlights. She interviews one of the members that has been successful with the Afflitiate Triad program and finds out how they did it. Some of them have special marketing knowledge they share in these spotlights and are great learning and inspiration tools. There are currently 17 of these.
Email Swipes
Affiliate Triad gives us email swipes to send out in between promo periods. They are released periodically and are intended to help us keep our list "warm." There are 17 volumes at this time. Each volume has 4 or 5 emails in it. The material could also be repurposed into blog content.
Bonus Courses
There are a growing group of training courses. Some were produced as Affiliate Triad products, that can be promoted for lead generation and commissions. They are placed here for our personal training. Others are products belonging to members, that Rapid Crush has contracted with to make available to us for training.
Organic Reach
Member Anna Dornier's Organic Reach program teaches her method of Facebook priming to build Know, Like & Trust with her audience.
Leads Faucet
Member Jonathan Green's Leads Faucet is an in depth course on creating a book, and using it to generate high quality leads to promote Affiliate Triad products and your other products too.
Prosperity Algorithm
This is Jason Fladien's latest program. It's all about building the mindset for prosperity. It is a mid-level priced product in the Affiliate Triad catalog, and made available here for learning.
Unite Challenge 2.0
This is another lead generation product placed here for member training.
Promo Materials
There are promotion guides for each product promoted in Affiliate Triad. There are a lot of parts involved in the full promotion funnel. These guides give detailed step-by-step instructions on getting everything setup.
Product Promotions
There are a lot of community and training assets in the Affiliate Triade membership, but still at the core, Affiliate Triad is about making affiliate commissions. You get to be on the inside for some big product launches.
Jason and Wil build all the pieces and put them together and you get to learn from that. Jason often makes videos where he shares his thought process as he builds the marketing funnel.
We members also get access to the products, usually a bit before the launch and lasting  through the launch. This helps us
Preview the product to get familiar with it before the launch.
Learn from a high priced product, without paying for it.
Two Ways to Promote Affiliate Triad Sponsored Products
When there is a product to promote, you have a couple of ways to do it.
"Easy Button" Method
The method they call the "Easy Button" method doesn't require a Kartra account. It's much simpler than the other method, but it has one big problem. With the easy button method you just use an affiliate link to go straight to the offer page. You don't get to build a list.
Full Lead Capture "Optimized" Method
You can also use the full scale lead capture method. This uses the product campaigns developed by Jason and Wil. It is pushed into your Kartra account and you deploy it.
After that there are several steps to set the campaign up with your links. You have to edit forms, pages and emails. There are very detailed instructions provided to help you with the process. There are also videos showing each step of the guide.
You can always ask for help in the Slack group also.
These full scale launch campaigns can be intimidating and a bit scary. You have to be ready to roll up your sleeves, get your hands dirty and do some work. It is very doable and help is there for the asking. I think they've made it as easy as possible.
Evergreen Products
Running launches for new products gets exhausting. When the launch ends, your income opportunity does too. The Rapid Crush folks responded to this issue by providing some evergreen products. We can promote these any time. Some of them are just for list building and others give you a lower priced alternative to the high ticket launches.
Here is the current list:
Affiliate Triad
Affiliate Triad membership is a semi-evergreen product. They open it for new members for a short period of a few days duration each month. We can promote it with our affiliate link.
I'm not sure if they plan to keep that schedule in the future, but that's how it's worked while I've been a member.
Product eClass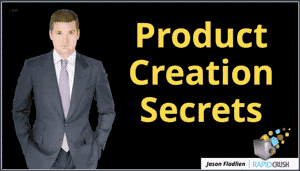 Product eClass is a detailed course by Jason Fladien. It's normally been offered only in limited launches.
This course has now been made evergreen for Affiliate Triad members to promote.
It has a mid-high price point, much less than the big launches. This provides us with some nice pricing diversity in our product offerings.
Unite Challenge 2.0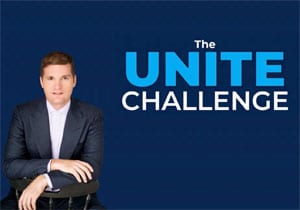 Jason brought out his The Unite Challenge as a June 2020 promo, right as the histeria over the pandemic was getting hot.
This is now one of our evergreen products.
It has a small upfront price, but the buyer can get that rebated by completing the course in 12 days after their purchase. So, there is no commission here, just a lead gen to build that list.
Double Your Productivity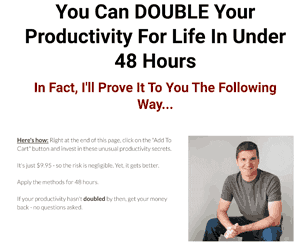 The first evergreen product Affilate Triad gave us was Jason's Double Your Productivity ebook.
In this offer we sell the ebook for 1/5th the price Jason charges for it. That's only $9.95, so you'd have to sell a ton of them to make real money with it.
It main purpose it to get people on our list.
High Ticket Product Promotions
Each month there is a product launch style promotion. These always have a limited time frame.  A few have been Rapid Crush products, but most haven't.
They follow this general outline:
Jason hosts a live webinar. This has valuable training that of course leads into the product.
A replay of the webinar is posted.
There is an email sequence that starts before the webinar. These promote registration for the webinar, link to the replay up to the close of cart.
Jason and Wil develop a bonus stack for the product.
All the elements for the campaigns are provided to the Affiliate Triad members. These will include any pages needed – webinar registration, replay registration (email capture), the replay page itself, thank you pages when needed and all the cart for taking the orders.
All that material is provided to us via our Kartra accounts, where we personalize it with our names and links.
There have been a couple of offers less than $1000, but most are above that. The offer coming up for Feb 21 has a $2500 price point.
These promotions offer a chance at large affiliate commissions.
My Experience in Affiliate Triad
I've been a member of Affiliate Triad for 8 months. I've not made a penny from it yet, and I'm OK with that right now.
I entered this with no email list and marginal experience making money online. I have very little experience buying ads to drive traffic.
I recently retired from a job I had for 30 years. Internet marketing has always been an interesting hobby for me.
I like learning things. Affiliate Triad is like a marketing mastermind. Joining a mastermind group with access to as many helpful, successful people and resources as you can get in Affiliate Triad would usually cost more than this program does.
And that's without providing products to promote.
I've really enjoyed the learning experience so far.  I like seeing how it evolves and grows.
I certainly intend to get more active in putting the resources to work, and making Affiliate Triad become a profit making adventure.
I can afford to be in Affiliate Triad without making money from it.
I realize most people can't do that. If you have no list to promote to, and money is really tight, this program may not be right for you at this point in life.
If you have an active list interested in business and making money online type niches, Affiliate Triad will give you an opportunity make some nice commissions.